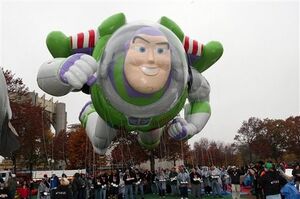 Since 2013, the
balloons
in the
Macy's Thanksgiving Day Parade
have come in two varieties. The first (and older of the two) is the novelty balloon class, consisting of smaller balloons which range widely in size and are handled by between one and thirty people (some shaped like human heads that fit on the actual heads of the handlers). The second and more widely known is the full-size balloon class, primarily consisting of licensed pop-culture characters; each of these is handled by exactly 90 people. From 2005 to 2012, a third balloon class, the "Blue Sky Gallery," transformed the works of contemporary artists into full-size balloons.
Replacing the live animals that had been used in early Macy's Parades, balloons were introduced to the event in 1927 by Tony Sarg, a marionette maker from London who had moved to New York City to perform with his puppets on the street. Originally built by the Akron, Ohio-based Goodyear Tire and Rubber Company, since 1984, balloons have been built by Sioux Falls, South Dakota-based Raven Industries' "Aerostar" division.
The following is a list of balloons that have, over the years, been featured in the Macy's Thanksgiving Day Parade, sorted by their first year in the lineup.
1930s introductions
1940s introductions
1950s introductions
1960s introductions
1970s introductions
1980s introductions
1990s introductions
2000s introductions
2010s introductions
Blue Sky Gallery entries
See also
Notes