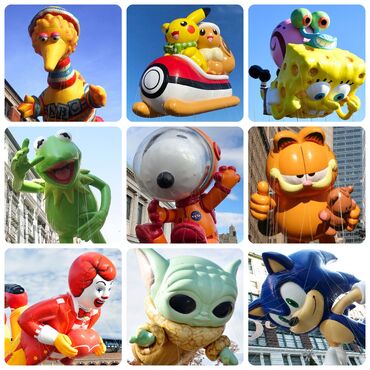 Balloons are the signature elements of the Macy's Thanksgiving Day Parade. The giant helium balloons generally measure several stories in size, and depict characters from pop culture, such as cartoons, films, comic strips and advertising icons. The first balloons were introduced by Tony Sarg for the 1928 Parade, serving as a replacement for the live animals, who had previously appeared in the Parade but frightened child attendees. Sarg, being a puppeteer, imagined the balloons as "upside-down marionettes," with participants handling the balloon by a series of handling lines as it makes its way down Broadway.
Every Macy's Parade balloon combines artistic design with aerodynamics and engineering. Ballooning experts, the Macy's team in collaboration with consultants calculate and perfect the balloon's aerodynamic design. Once a flight-worthy balloon concept has been approved, it moves onto a 3D-printed model (previously sculpted with clay). This step helps the team create a physical blueprint from which the balloon will be built. From there, giant reams of polyurethane fabric will be patterned, cut and sealed together to create multiple chambers, which ultimately produce the character's head, body and limbs. Once the balloon has been created and painted to the exact specifications required of the character, it will undergo many tests including indoor and outdoor flights, inflation and deflation tests, and final touch-ups before its inaugural flight in the Macy's Parade.
The first manufacturer of the balloons was the Goodyear Tire and Rubber Company, headquartered in Akron, Ohio, who produced balloons between 1928 and 1980. Kemp Balloons, Inc. then took over creation of the inflatable giants until 1983. In 1984, Sioux Falls-based Raven Aerostar began constructing balloons for the Parade and would do so for several decades until 2019, when the Macy's Parade Studio took over full-time construction of the balloons.
Balloons have since been split into several categories; giant character balloons (balloons mostly based on licensed characters), novelty balloons (Macy's-sponsored balloons of generic characters and figures, introduced in 1985), heritage balloons (mid-sized balloons with sponsors, introduced in 2016); balloonicles (a balloon figure powered by a vehicle inside the balloon, introduced in 2004); balloonheads (an inflatable character head attached to a costume worn by the performer, introduced in the 1930's but later reintroduced in 2003); trycaloons (balloon figures riding on bicycles, introduced in 2011); and floaloonicles (part-float, part-balloon-part, vehicle, introduced in 2021).
Following is a list of giant balloons that have appeared in the Macy's Thanksgiving Day Parade over the years, ordered in their debut years.
1920s introductions
1928
1929
1930s introductions
1930
1931
1932
1933
1934
1935
1936
1937
1938
1939
1940s introductions
1940
1941
1945
1946
1947
1948
1949
1950s introductions
1950
1951
1952
1953
1954
1956
1957
1960s introductions
1960
1961
1962
1963
1964
1965
1966
1968
1969
1970s introductions
1971
1975
1977
1980s introductions
1980
1982
1983
1984
1985
1986
1987
1988
1989
1990s introductions
1990
1991
1992
1993
1994
1995
1996
1997
1998
1999
2000s introductions
2000
2001
2002
2003
2004
2005
2006
2007
2008
2009
2010s introductions
2010
2011
2012
2013
2014
2015
2016
2017
2018
2019
2020s Introductions
2020
2021
See also
Notes