NOTE: This page is currently under construction
The Big Apple Circus is a circus based in New York City. Opened in 1977, later becoming a nonprofit organization, it became a tourist attraction. The circus has been known for its community outreach programs, including Clown Care, as well as its humane treatment of animals. Big Apple Circus filed for Chapter 11 bankruptcy protection in November 2016 and exited bankruptcy in February 2017 after its assets were bought by Compass Partners. The Circus was renewed in October 2017 for its 40th anniversary season and returned to start a new season in October 2018 at Lincoln Center, receiving glowing reviews.
History with the Macy's Parade
The Big Apple Circus has a significant role in the Macy's Thanksgiving Day Parade's history. The circus is known for hosting Macy's Clown University, a class that trains the clowns and gives them scholarships each year.
In the Parade (history incomplete)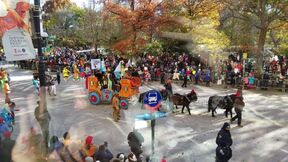 The Big Apple Circus also contributed to the Parade in the line of march for many years, and occasionally featured Grandma the Clown (performed by Barry Lubin) until 2011, when Grandma was retired from the Big Apple Circus.
After an absence that lasted through the mid-2010s, the Big Apple Circus once again returned to the line of march starting in 2017. However, the famous United States Tableau Wagon did not return with the unit, and was replaced by a new Big Apple Circus wagon. Grandma also returned to the unit after a brief return to the Circus, but did not appear with the unit the following year, as Grandma would once again be retired from the Big Apple Circus due to Barry Lubin's resignment after a scandal involving him. The wagon still makes appearances as of 2019
Community content is available under
CC-BY-SA
unless otherwise noted.