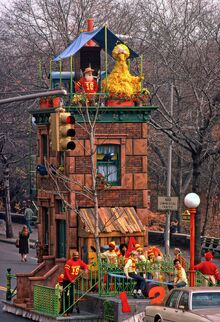 Floats are decorated platforms that are built on or towed by vehicles such as trucks, and are commonly seen in public celebrations such as festivals, parades and street fairs. Notable floats make appearances in the Tournament of Roses Parade, the 500 Festival Parade, the Toronto Santa Claus Parade the Macy's Thanksgiving Day Parade.
Hitting the streets as 360-degree masterpieces, the Macy's Parade floats begin their Thanksgiving journey as a one-dimensional sketch. From there, the Macy's Parade Studio's team of designers, carpenters, painters, animators, metal fabricators and electricians work to bring each to larger-than-life form. Factors including creative inspiration, performance considerations, safety, and most importantly, assembly and disassembly guide the creation process. From weather to final dimensions, the team transforms the creative vision into a work of art and of engineering.
Dimensions are key for any new Macy's Parade float. While many can be several stories tall and several lanes of traffic wide, everything imagined, designed and built must fit through New York's Lincoln Tunnel. With Macy's Parade Studio located in New Jersey, miles and a river away from the Parade route, the floats must all travel through the tunnel conforming to no more than 12.5-feet tall and 8-feet wide in size. While that is the first hurdle on Parade eve, the next is the overnight assembly of the entire fleet. With the help of several cranes and extra manpower, one-by-one the floats come to life and are prepared for their Thanksgiving Day duties.
Following is a list of floats that have appeared in the Macy's Thanksgiving Day Parade since its inception in 1924.
1920s Introductions
1924
1927
1930s Introductions
1932
1938
1939
1940s Introductions
1940
1946
1948
1950s introductions
1950
1951
1952
1954
1955
1958
1959
1960s introductions
1960
1961
1962
1963
1964
1965
1966
1967
1968
1969
1970s introductions
1970
1971
1972
1973
1974
1975
1976
1977
1978
1979
1980s introductions
1980
1981
1982
1983
1984
1985
1986
1987
1988
1989
1990s introductions
1990
1991
1992
1993
1994
1995
1996
1997
1998
1999
2000s introductions
2000
2001
2002
2003
2004
2005
2006
2007
2008
2009
2010s introductions
2010
2011
2012
2013
2014
2015
2016
2017
2018
2019
2020s Introductions
2020
2021
Notes