Izzy was the official mascot of the Atlanta 1996 Summer Olympics. Initially named Whatizit ("What is it?") at its introduction at the close of the 1992 Summer Olympics in Barcelona, the animated character with the ability to morph into different forms was a departure from the Olympic tradition in that it did not represent a nationally-significant animal and/or human figure.
History with the Macy's Parade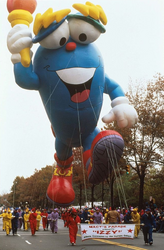 Izzy had a balloon made after him which debuted in the 1993 Macy's Thanksgiving Day Parade, which depicted him holding a giant 28 foot Olympic torch. Izzy returned again in the 1994 Macy's Parade, this time promoting a live announcement for tickets for the Olympics, which would go on sale starting May 1st, 1995.
Later in 1995, Izzy was redesigned to look more "athletic" and so his balloon was also re-designed to use his modernized face. He has retired afterwards due to the Olympics ending before the 1996 Macy's Parade. He is very unlikely to ever return, as he is very forgettable and unseen in many eyes.
Music
Atlanta Olympic Games Theme (1993-1995)
Incident
In 1995, his left arm and hand were deflated due to his hand leaking helium.
Gallery
Community content is available under
CC-BY-SA
unless otherwise noted.