This list will feature long-running balloons, and how many years and Parades the balloon has appeared in.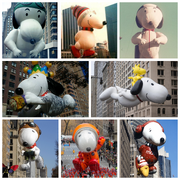 Rules
The character must have participated in at least 15 parades within all designs.
Deflations and removals count, as they still would have appeared in the Parade.
Unless they have more than one variant, singular character balloons that have made 15 or more appearances (ex. Woody Woodpecker, Linus the Lionhearted, and Underdog) aren't allowed.
Brief returns (like in 1991) also count.
Breaks also apply.
Generic balloons (such as Harold the Fireman and the Red Candy Cane) aren't allowed.
List
1. Snoopy - 39 Parades
Aviator Snoopy (1968, 1978-1982, 1985) - 7 Parades
Astronaut Snoopy (1969-1977) - 9 Parades
Ice Skating Snoopy (1987) - 1 Parade
Winter Snoopy and Woodstock (1988-1995) - 8 Parades
Millennium Snoopy (1999-2001) - 3 Parades
Snoopy as the Flying Ace (2006-2011) - 6 Parades
Snoopy and Woodstock (2013-2015) - 3 Parades
Astronaut Snoopy (2019-Present) - 2 Parades so far
2.Ronald McDonald - 27 Parades
Upside Down (1987-1990, 1993-1994) - 6 Parades
Traditional (2000-2008) - 9 Parades
Ice Skating (2009-2014) - 6 Parades
Circus (2015-Present) - 6 Parades so far
3. Rocky and Bullwinkle - 26 Parades
Bullwinkle (1961-1983) - 23 Parades
Rocky and Bullwinkle (1996, 1999-2000) - 3 Parades
4. Kermit the Frog - 22 Parades
Original (1977-1987, 1990-1991) - 13 Parades
Redesign (2002-2004, 2007-2012) - 9 Parades
5. Pikachu - 20 Parades
Original (2001-2005) - 5 Parades
with Pokeball (2006-2013) - 8 Parades
Winter (2014-Present) - 7 Parades so far
6. Sinclair's Dino - 20 Parades
Original (1963-1976) - 14 Parades
Redesign (2015-Present) - 6 Parades so far
7. Mickey Mouse - 20 Parades
Original (1934-1935) - 2 Parades
Redesign (1971-1983) - 13 Parades
Bandleader (2000) - 1 Parade
Sailor (2009-2012) - 4 Parades
8. Smokey Bear - 19 Parades
Original (1966-1981, 1993) - 17 Parades
Redesign (2019-Present) - 2 Parades so far
9. Big Bird - 19 Parades
Original (1988-2000) - 13 Parades
Redesign (2001-2006) - 6 Parades
10. Spider-Man - 18 Parades
Original (1987-1998) - 12 Parades
Redesign (2009-2014) - 6 Parades
11. Garfield - 18 Parades
Original (1984-1989, 1992-1999) - 14 Parades
with Pooky (2003-2006) - 4 Parades
12. SpongeBob SquarePants - 16 Parades
Original (2004-2006, 2008-2012) - 8 Parades
Santa Hat (2013-2018) - 6 Parades
with Gary the Snail (2019-present) - 2 Parades so far