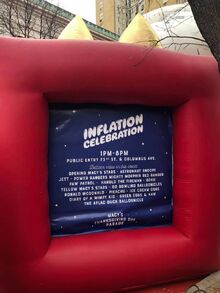 The Inflation Celebration is an event that has been traditionally held on Thanksgiving Eve since 1994. The event features inflation teams and Parade officials prepping the giant balloons, novelty balloons, and balloonicles for the following day's Macy's Thanksgiving Day Parade.
History
For the Parade's earliest inflation ceremonies, the balloons were normally inflated in the wee hours on Thanksgiving morning in Harlem. Starting in the 1930s, the smaller balloons were inflated the night before and were loaded onto trucks, while the larger balloons were inflated mere hours before the Parade's kick-off. When the Parade route was shortened in 1945, the balloon inflation was moved to the Upper West Side.
Over the years, the inflation would start the night before the Parade, and would draw a small number of local New Yorkers each and every year. Starting in 1994, the late Jean McFadden decided to make the balloon inflation an annual event open to the public, so that fans of the Parade could see the behind the scenes of the Parade. Nowadays, it is held at 77th Street and 81st Street between Central Park West and Columbus Avenue. It was originally started at 3 pm and ran until 10 pm. In 2017, however, they moved the hours ahead 2 hours, having it now start at 1 pm and running until 8 pm. This change was put into place by the NYPD as the crowds later in the day caused a safety hazard to attendants.
On September 15th, 2020, it was announced that due to the ongoing 2019-20 coronavirus pandemic, the Macy's traditional Giant Balloon Inflation public event on the Wednesday before Thanksgiving will not take place in 2020.
See also
Community content is available under
CC-BY-SA
unless otherwise noted.