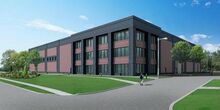 Macy's Parade Studio is a Studio located in Moonatchie, New Jersey, where the Macy's Parade balloons, balloonicles, novelty balloons, and floats are designed, crafted and painted.
History
The original lofted concrete building at 15th Street and Willow Avenue was constructed at the turn of the last century, and was home to a manufacturer of elevator components during its earliest years. According to the 1918 Industrial Directory of New Jersey, the Elevator Supplies Company employed 600 people, making it one of the larger employers in the city before and during the First World War. By 1932, the national economy was experiencing its historic decline, and the workforce of the Hoboken firm (which also controlled a large Canadian elevator equipment company) dropped to 350. Newspaper reports during the Great Depression describe an unsuccessful attempt by the company's stockholders to have a receiver appointed to take over Elevator Supplies, which later sold the building.
Sperry Products, Inc., manufacturers of electrical and hydraulic equipment, was the building's next occupant. Until 1948, the Hoboken building was the headquarters and manufacturing center for a range of non-destructive testing equipment, including the Sperry Detector Car, which was used to test rail track for most of the railroads in the United States, Canada, and Mexico. Although the Hoboken firm and Sperry Gyroscope had the same founder — Dr. Elmer A. Sperry — there was no corporate relationship between them. Sperry Products, Inc. relocated to Danbury, Connecticut in 1948.
The American Sweets Company - best known for its manufacture of Tootsie Rolls - moved into the building after Sperry Products departed, and continued through the early 1960s. Portions of the old concrete building were used to store cocoa, and other sections held paneled offices and candy-making machines.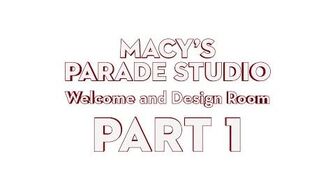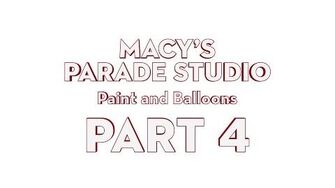 In 1968, Macy's Studio moved from a smaller warehouse in North Bergen, New Jersey, to Hoboken. The building was remarkably well-suited to the unusual needs of the Macy's artistic and technical crew. With 44-foot-tall ceilings, 16,000 square feet of ground-level space, reinforced concrete walls, an overhead crane to lift elements, and beautiful light, the space was ideal for all aspects of float and balloon design and nearly all aspects of fabrication.
After a 40-year-plus occupancy, the Parade Studio team announced in 2010 that they would be moving to a new and improved building in Moonachie, New Jersey. The former Hoboken Studio was later demolished in June of 2013.
The current Macy's Parade Studio, now located at 140 State Street in Moonachie, New Jersey, is a 72,000-square foot warehouse that was built specifically for the Macy's Parade crew and staff. The building, like its predecessor, has a room with 44-foot tall ceilings where the Parade's signature inflatable icons can be tested and created. The building also came equipped with a five-tonne overhead crane, in addition to three other smaller hoists. The current Parade Studio also has two spray booths located on opposite sides of the building's production facility.
Parade Studio Employees
Current
Joseph Ammons - Concept Artist
Gerard Angelella - Manager
Christian Bracco - Lead Scenic Painter
Cameron Carnivale - Sculptor/Painter/Fabricator
John Cheney - Carpenter
Jordan Dabby - Parade Producer
Geoffrey Donnelly
Lenny Drenski - Production Director
Brian Drew - Balloon Technit
Brett Gearity - Production Manager
Matt Kaprielian - Balloon Studio Manager
Kimberly Montgomery - Costume Director
Tina Pfefferkorn - Balloon Technician
Rick Pomer - Creative Director
Dennis Salerno
Thomas Schnakenberg
Loryn Sotsky - Artist
Cory Stallworth
Susan Tercero - Executive Producer
Gregory Thompson
Sean Tulner - Sculptor/Mold Maker
Cory Watson - Welder
Wesley Whatley - Creative Producer
Former
Laura Duphiney - Concept Artist
Joel Naprstek - Painter/Concept Artist
Gallery
Hoboken Studio (1968-2010)
Moonachie Studio (2011-Present)
Community content is available under
CC-BY-SA
unless otherwise noted.