Macy's Thanksgiving Day Parade Wiki
is an unofficial encyclopedia for information related to the
Macy's Thanksgiving Day Parade
, one of America's best Thanksgiving traditions and a hallmark of the
Macy's
department store chain. The "Longest Running Show on Broadway" is so momentous that we try to offer it full and complete coverage! We currently devote over 1,600 articles to the Parade's signature mix of giant character balloons, floats, marching bands, performance groups, clowns, music stars and the one-and-only Santa Claus. We also cover other Macy's Special Events and everything else this 95 year-old spectacle has to offer!
We currently have 1,749 articles, have uploaded 19,422 images, and have made 137,672 edits. Want to discuss anything and everything Parade-related? Join the unofficial Macy's Thanksgiving Day Parade Discord Server!

Sparks Will Fly at Macy's 4th of July Fireworks: Sparks will fly as Macy's 4th of July Fireworks, the nation's largest Independence Day celebration, ignites the night in New York City on Monday, July 4, 2022. Macy's will present its signature jaw-dropping pyrotechnic salute to America featuring a barrage of 48,000 dazzling shells and effects that will captivate spectators live in New York City and on television from coast-to-coast. Read more.
Spring Blooms At The Macy's Flower Show: Macy's annual ode to springtime bloomed once again at Macy's Herald Square in 2022, with thousands of stunning flowers and lush plants transforming the flagship store into one of the most colorful destinations in NYC. Over the course of two weeks, beautiful blossoms and the fresh fragrances they evoked came together in a scent-sational kickoff of the season. Read more.
It's Time to Be Merry at Macy's This Holiday Season: Santa Claus returned for in-person visits at Macy's Santaland in Chicago, New York, and San Francisco by reservation, while an all-new digital experience launched to allow kids of all ages to experience the magic from home. Select cities nationwide also hosted special holiday traditions including Animated Holiday Windows, Macy's Great Tree Displays, Christmas Light Show and Dickens Village. Read more.
95 and Marching On!: The Macy's Thanksgiving Day Parade ushered in the holiday season as it marched down the streets of NYC for the 95th Parade, kicking off the holidays with a dazzling spectacle featuring its signature mix of giant character balloons, floats, marching bands, performance groups, clowns, music stars and the one-and-only Santa Claus. Read more.
An Insider's Look
Macy's wanted to give you a peek behind the curtain and show you exactly what goes into putting on the annual Macy's Thanksgiving Day Parade. (Hint: it takes a whole year!). Learn the ins and outs of the Macy's Parade Studio located in Moonachie, New Jersey, and meet the people who bring the event to life!
 	 	   

The Road to 34th Street
Get an inside look from Macy's Thanksgiving Day Parade Executive Producer, Susan Tercero, who explains how the balloon concepts go from sketch to 3D models, how the floats are engineered to travel to the Parade route and so much more. Plus, there's tons of glitter! Check out Macy's video series to see what goes on behind the scenes.
Parade 101
The Macy's Parade Studio team shows how they incorporate science, technology, engineering, art & math concepts to create a magical experience for millions to enjoy!
The Balloon Team that creates the larger-than-life character balloons for the Macy's Parade shows you there is more than one way to inflate a balloon! At the amazing Macy's Parade Studio, Matt, Brian and Tina demonstrate fun inflation experiments that you can do at home.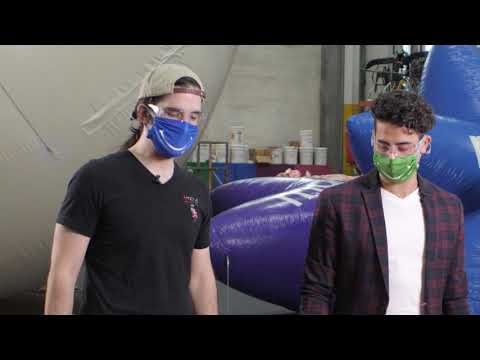 Learn how to build fabulous floats, like the ones in the Macy's Parade, with materials you have at home! In the amazing Carpentry Area of the spectacular Macy's Parade Studio, experts Lenny and Brett show you how to get your float moving and create anything you can imagine.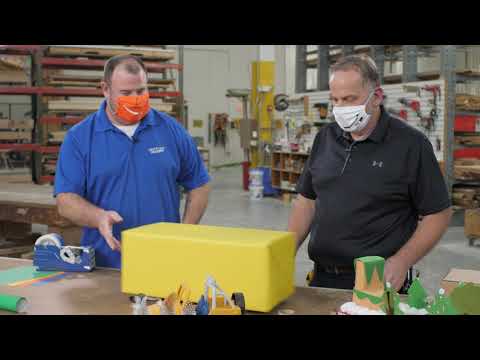 Artists Joey and Lauryn have really fun jobs, they design the larger-than-life balloons in the Macy's Parade! In the remarkable Design Department at the incredible Macy's Parade Studio, they will teach you the fundamentals you need to design your own gigantic balloon.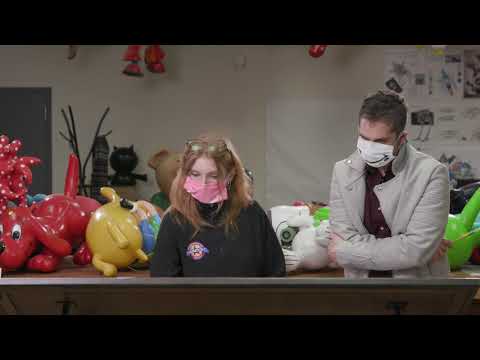 Get a glimpse at how the movable art on the show-stopping floats in the Macy's Parade is made. In the spectacular Sculpture Area of the famous Macy's Parade Studio, experts Cameron and John show you how to create sculptures using moldable material you can make at home.
Macy's Parade Gives
Since the very first Macy's Thanksgiving Day Parade in 1924, it has always been a way for employees and Macy's to give back to the community. Over the years, Macy's has continued to create new opportunities for the Parade to give even more back.
Did You Know?
The foul-tempered Donald Duck was the first-ever character to receive two balloons; the first debuted in 1935, and the other in 1962.
The 1990's saw the Parade balloons adding new characters from the internet, video games and contemporary cartoons. Sonic the Hedgehog, Bart Simpson and the Rugrats were just a few of these balloons.
In 1931, Clarence Chamberlain, an aviator flying above New York City, caught a giant balloon in mid-air in order to claim the $25 reward money. The practice of releasing the balloons was discontinued in 1933.
The 1933 edition of the Parade was the first-ever recorded for newsreels and subsequently shown in theatres around the world.
The Parade has featured some of the biggest names from stage and screen, including Harpo Marx, Jackie Gleason, Bob Hope, Diana Ross, Sammy Davis, Jr, Stevie Wonder, Tony Bennett, Patti LaBelle, Barry Manilow, Shania Twain, Darlene Love, Christina Aguilera, Usher, Rihanna, Miley Cyrus and Kanye West, among others.
1987 Macy's Thanksgiving Day Parade: Reinflated
Calling all Parade fans! A new community project is in production, and you can help! But, what is it?
Introducing the 1987 Macy's Thanksgiving Day Parade: Reinflated! This collaborative project will bring together balloonatics from around the globe to reanimate the magical pageantry of the 1987 procession, featuring all your favorite balloon stars, fantastic floats and superstar performers galore! The project will be directed by fellow Wiki editor Koreyda2ndninja (aka Korey), and will release on YouTube in the coming months.
If you are interested in participating in this project, please do! Contact Korey on his message wall and ask what you can do to help with this community-driven project. We'd love as many different styles as possible to make this fabulous idea a reality. For more information, please read the blog post that includes links and rules. Once all the pieces are set in place, we can start the procession with those all famous words...
5...4...3...2...1...Let's Have A Parade!

Browse Macy's Thanksgiving Day Parade Wiki