Welcome to the Macy's Thanksgiving Day Parade Wiki!
Macy's Thanksgiving Day Parade is an encyclopedia for information related to the Macy's Thanksgiving Day Parade, one of America's best Thanksgiving traditions and a hallmark of the Macy's department store chain. The "Longest Running Show on Broadway" is so momentous that we try to offer it full and complete coverage! We currently devote over 500 articles to the parade's fantastic floats, giant big balloons, musical performances, and everything else this sensational spectacle has to offer!
A Holiday Treat for Children Everywhere
Despite frigid temperatures and high winds, the 92nd Annual Macy's Thanksgiving Day Parade marched down the streets of New York City on November 22nd, 2018, marking it as the coldest Parade in history, with it reaching and all-time low of 19°F. Several new balloons took flight, including Goku in his Super Saiyan Blue form from the popular Dragon Ball franchise, Sunny the Snow Pal; an original Macy's character, and the elves from Netflix's The Christmas Chronicles. In addition, a new member to the famed "Blue Sky Gallery" was introduced, Little Cloud by FriendsWithYou.
As the floating wonders rolled down the Parade route, parade watchers caught a glimpse of several brand-new floats, including a newly-design Tom Turkey, a Splashing Safari Adventure from Kalahari Resorts, a brand-new Ninja Turtles float, a Fantasy Chocolate Factory furnished by Kinder, and rounding out the lineup, a new float based off of Elf Pets, which accompanied the Elf on the Shelf balloon en route to 34th street.
With celebrities and the return of many old favorites, the 92nd Parade is surely one for the books. Despite the Parade just recently ending, the Macy's Parade Studio team is already underway to make preparations for the 93rd Parade in 2019.
Current News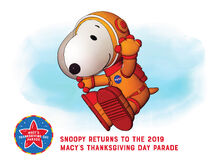 Here, current news such as handler training dates, new balloon/float confirmations, etc, will be found here.
May 27, 2019 - The FANDOM Badges are Here!

FANDOM Badges have now been added to this Wiki. With them, they are like achievements and rewarding you with points for doing certain tasks, like joining the Wiki or getting a certain amount of edits.
June 1, 2019 - The Year Begins!
Just recently, the first Balloon Handler's Training for 2019 took place at Stevens Institute of Technology. The two balloons used today included Ms. Petula Pig, and a brand-new Ice Cream Cone balloon that will make its debut in the 2019 Macy's Thanksgiving Day Parade!
July 13, 2019 - Astronaut Snoopy returns!
It was confirmed today that the first new character balloon will be a new version of Astronaut Snoopy! This will be Snoopy's 8th design and will celebrate the 50th Anniversary of the Apollo space programs and the 50th Anniversary of the original Goodyear Astronaut Snoopy Balloon.
Wiki Staff
Owner and Main Bureaucrat: JamarcusMudkip
Assistant Owners: LTPHarry, PolarJack77, Inflatable&SportsGuy1986, and ToonBoomer
Just remember, we're always here to help, if you have a question or need help, just ask us!
-JamarcusMudkip
Users of the Month
Here is the place for contributors who have made a difference on the wikia, and were voted as User of the Month!
May 2018 - Inflatable&SportsGuy1986
January 2019 - Apple idk
February 2019 - ToonBoomer
May 2019 - TheSpongeBobandLoudHouseFan2007!
Banned Users
Here, you'll find a list of contributors that have been banned from the wikia for either vandalism, spam, block evasion and/or misbehavior.
Xavieromao
George the Nickelodeon Lover
Any "Mafia Character" account (e.g. ELMO THE MAFIA MONSTER and MAX THE MAFIA MASTER)
Angel Avila Maravilla
Nate4Him
If you notice any of these users return through sock-puppet accounts, ignore him/her and inform an admin.
Rules for contributors
You are not allowed to contribute any custom content. This includes pages for bogus parades, news "reports" for fake additions to the parade, and pages for parades coming in the distant future.
Do not alter pages for upcoming years except to update them to include officially confirmed balloons, floats, marching bands, or music performances.
You are not allowed to post any spam on any page.
Do not create pages for any character or brand that has not been represented in a Macy's Parade balloon or float, or name any upcoming marching bands without official confirmation.
Do not upload poor-quality images to this wiki.
Vandalism is prohibited on this wiki. This includes the unexplained removal of legitimate content, adding irrelevant obscenities or crude humor, blanking pages and contributing obvious nonsense. If vandalism is inserted, it should be reverted immediately upon being discovered. Vandalizers of pages may be warned several times before they have their accounts blocked.
Refrain from swearing on this wiki. If any usage of profanity is noticed by staff, the offending user should be blocked.
Unless approved by others within chat, spam (stupid, pointless, and annoying messages) will not be tolerated on this wiki. This will also face a ban.
No IP accounts are allowed on this wiki. IP users have been banned because they contributed much bogus content that has since been deleted.
If vandalism causes you to be banned, you are not aloud to create any sockpuppet accounts. Any sockpuppet accounts will be banned upon discovery.
Community content is available under
CC-BY-SA
unless otherwise noted.