Macy's Thanksgiving Day Parade Wiki
is an encyclopedia for information related to the
Macy's Thanksgiving Day Parade
, one of America's best Thanksgiving traditions and a hallmark of the
Macy's
department store chain. The "Longest Running Show on Broadway" is so momentous that we try to offer it full and complete coverage! We currently devote over 1,400 articles to the parade's fantastic floats, giant helium balloons, musical performances, other
Macy's Special Events
, and everything else this 95-year old sensational spectacle has to offer!

We currently have 1,466 articles, have uploaded 18,409 images, and have made 128,238 edits.
95 and Marching On! Macy's Thanksgiving Day Parade Ushers in the Holiday Season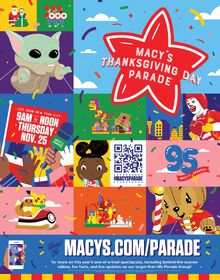 A spectacle like no other returned this Thanksgiving to usher in the start of the holiday season as the
Macy's Thanksgiving Day Parade
took to the streets of New York City. On Thursday, November 25 at 9:00 A.M., the 95
th
march of the world-famous Parade of magic brought the nation together in celebration featuring
Macy's
signature mix of giant character helium balloons, fantastic floats, incredible marching bands, jubilant performance groups, whimsical clowns, music stars and the one-and-only Santa Claus.
"For more than nine decades, the Macy's Thanksgiving Day Parade has served to bring joy to millions, who gather with friends and family to experience this one-of-a-kind holiday celebration along the streets of New York City and in homes nationwide," said Will Coss, Executive Producer of Macy's Thanksgiving Day Parade. "For our 95th celebration, Macy's has created a spectacle to remember featuring a dazzling array of high-flying balloons, animated floats and incredible performers. We can't wait to help New York City and the nation kick-off the holiday season with the return of this cherished tradition."
The 95th annual Macy's Parade featured 15 giant character balloons, 28 floats, 36 novelty and heritage inflatables, more than 800 clowns, 10 marching bands and 9 performance groups, a host of musical stars, and the one-and-only Santa Claus.
To safely produce the annual Thanksgiving Day event, Macy's once again partnered closely with the City and State of New York to create a production plan that would ensure health and safety practices aligned with CDC guidelines, as well as current local and state government protocols.
Stars on Parade
The Macy's Parade is always the holiday's biggest stage for entertainment and 2021 was no different. Featuring a mix of musical genres from Pop and R & B to Country, Classic Rock and K-Pop, the Parade was be the ultimate television party destination in November. Joining the festivities were be aespa, Jimmie Allen, Jon Batiste, Blue's Clues & You! host Josh Dela Cruz and the former hosts of Blue's Clues Steve Burns and Donovan Patton, Darren Criss, Jordan Fisher, Foreigner, the cast of Peacock's Girls5eva (Sara Bareilles, Renée Elise Goldsberry, Paula Pell, Busy Philipps), Andy Grammer, Mickey Guyton, Chris Lane, Miss America 2020 Camille Schrier, the cast and Muppets of Sesame Street, Nelly, Kim Petras, Kelly Rowland, Rob Thomas, Carrie Underwood, Tai Verdes, Zoe Wees, and Tauren Wells; with an extra special appearance by the one-and-only Santa Claus.
Inflatable Icons
Since 1928 the world's most popular characters have been transformed into high-flying art in the sky. Inspired by marionettes, the Parade's balloons first debuted as upside down puppets filled with air and carried on sticks, before taking flight with the addition of helium. Over time the inflatables morphed to encompass balloonheads, hybrid inflatables with vehicles inside (balloonicles) and tandem tricycles (trycaloons).
New giants that joined the line-up this year included Ada Twist, Scientist by Netflix; a Funko Pop! inspired Grogu (a.k.a. Baby Yoda in pop culture) from the Star Wars series "The Mandalorian," Ronald McDonald by McDonald's and Pikachu & Eevee by The Pokémon International Company.
Making return appearances to the skies above New York City were giant balloon favorites including Astronaut Snoopy by Peanuts Worldwide; The Boss Baby by DreamWorks Animation and Universal Pictures; Diary of A Wimpy Kid by Abrams Books; Sinclair's DINO by Sinclair Oil Corporation; Goku by Toei Animations, Inc.; Chase from PAW Patrol by Nickelodeon; Pillsbury Doughboy by Pillsbury; Red Titan from Ryan's World by Sunlight Entertainment and pocket.watch; Papa Smurf from The Smurfs by Nickelodeon; Sonic the Hedgehog by SEGA; and SpongeBob SquarePants & Gary by Nickelodeon.
The inflatable lineup also included Sinclair's Baby DINOs and the Go Bowling balloonicles; Smokey Bear by the U.S.D.A. Forest Service; and Macy's very own special reindeer Tiptoe and Toni the Bandleader Bear.
Floats of Fantasy
From its inception, the Parade's floats have transported spectators to magical worlds. These initial whimsical creations focused on nursery rhyme stories. Today the floats are multi-level animated wonders that dazzle with their artistry. Conceived and crafted by the incredible artisans of Macy's Parade Studio – a design and production facility that includes carpenters, engineers, electricians, painters, animators, balloon technicians, sculptors, metal fabricators, scenic and costume designers – this year's line-up of floats showcase the best of theatrical design. While they are built for entertainment, they are also a showcase of creative design, engineering, and skillful construction. To spectators they seem to float down the route, even though many are three stories tall and several lanes of traffic wide stages. However, if you dig a little deeper, the magic is revealed as each of these amazing floats are built to collapse to no more than 12 ½-feet tall and 8-feet wide to travel safely from the New Jersey home of the Parade Studio to the Manhattan starting line via the Lincoln Tunnel for the annual celebration.
In 2021 six new floats debuted including Birds of a Feather Stream Together by Peacock (cast of Peacock's Girls5eva); Celebration Gator by Louisiana Office of Tourism (Jon Batiste); Colossal Wave of Wonder by Kalahari Resorts and Conventions (Nelly); Gravy Pirates by HEINZ; Magic Meets the Sea by Disney Cruise Line (Jordan Fisher and special guests); and Tiptoe's North Pole.
The returning float roster and its scheduled performers included 1-2-3 Sesame Street by Sesame Workshop (The cast and Muppets of Sesame Street); Big City Cheer! by Spirit of America Productions (Miss America 2020 Camille Schrier); Big Turkey Spectacular by Jennie-O (Tai Verdes); Blue's Clues & You! by Nickelodeon (Josh Dela Cruz, Steve Burns and Donovan Patton); The Brick-Changer by The LEGO Group (Zoe Wees); Christmas in Town Square by Lifetime (Kelly Rowland); Deck the Halls by Balsam Hill; Elf Pets by The Lumistella Company; Everyone's Favorite Bake Shop by Entenmann's (Andy Grammer); Fantasy Chocolate Factory by Kinder (Darren Criss); Harvest in the Valley by Green Giant (Jimmie Allen); Heartwarming Holiday Countdown by Hallmark Channel (Rob Thomas); Her Future is STEM-Sational by Olay (aespa); Home Sweet Home by Cracker Barrel Old Country Store (Tauren Wells); Macy's Singing Christmas Tree (Macy's Singing Christmas Tree Choir); Mount Rushmore's American Pride by South Dakota Department of Tourism (Chris Lane); Rexy in the City by COACH (Kim Petras); Santa Express and Santa Starflakes by Universal Orlando Resort; Santa's Sleigh (Santa Claus); Tom Turkey; Toy House of Marvelous Milestones by New York Life (Foreigner) and Winning Winter Together by MassMutual and NHL (Mickey Guyton).
As the Parade unfolds, making an extra special appearance down the route to delight kids of all ages will be Geoffrey, the beloved mascot of Toys"R"Us.
The Beat and the Pageantry
The nation's best marching bands helped strike it up and bring the beat to the holiday revelry. Joining the line-up were The Ann Richards School for Young Women Leaders (Austin, TX), Brownsburg High School (Brownsburg, IN), Centerville High School (Centerville, OH), Hampton University (Hampton, VA), Lincoln-Way High School (Frankfort, IL), Macy's Great American Marching Band (United States), NYPD Marching Band (New York, NY), Trabuco Hills High School (Mission Viejo, CA), Union High School (Tulsa, Oklahoma), and University of Alabama (Tuscaloosa, AL).
Taking entertainment to the next level was the Parade's beloved performance groups who bring joy to spectators along the route and viewers watching from home. The 95th Parade featured the dazzling dancers of Ballet Hispánico's School of Dance, the harmonious voices of the Broadway Education Alliance Youth Choir, the fancy footwork of the Fred Astaire Dance Studios, the special tributaries of Indigenous Direction, the out of the world skills of J.U.M.P. (Jumpers United for Macy's Parade), the razzle dazzle of the St. John's Dance Team, the energetic Spirit of America Cheer and Spirit of America Dance Stars, and the moving voices of the Young People's Chorus of NYC.
The Route to Magic
For spectators who wished to enjoy the spectacle live, the 95th Annual Macy's Thanksgiving Day Parade began at 9:00 A.M., kicking off from its traditional starting line at 77th Street and Central Park West. From there the procession marched down its signature 2.5-mile route taking it from Central Park West to Columbus Circle, turning onto Central Park South and then marching down 6th Avenue/Avenue of the Americas. At 34th Street, the Parade made its final turn west and ended at 7th Avenue in front of Macy's Herald Square.
Tune-in for the Wonder
For decades, the Macy's Thanksgiving Day Parade has been one of the nation's most anticipated and watched holiday celebrations. Viewers nationwide caught all the action via the special broadcasts on NBC and Telemundo, from 9:00 A.M. to 12:00 P.M., in all time zones, For the first time, fans could also stream the broadcast on Peacock. The TODAY Show's Savannah Guthrie, Hoda Kotb and Al Roker hosted the three-hour telecast for NBC and Peacock. The Spanish language simulcast on Telemundo was hosted by Ana Jurka and Carlos Adyan, accompanied by Freddy Lomelí reporting live from Sixth Avenue, and featured a special appearance by Miss Universe® Andrea Meza.
The holiday television special featured a special performance from music superstar Carrie Underwood from her album, My Gift (Special Edition).
Broadway's best musicals also performed including SIX, Moulin Rouge! and one of Broadway's longest running hits, Wicked; along with a sneak preview of NBC's Annie Live! In addition, the show-stopping Radio City Rockettes brought their signature magic to Herald Square.
For the first-time ever, spectators enjoying the Parade on television and on Peacock, experienced several whimsical augmented reality effects throughout the show that will add another dose of Macy's magic to the pageantry.
#MacysParade
For an insider's look at the holiday procession, fans nationwide were able to visit macys.com/parade for regular updates including behind-the-scenes previews, special tours, interactive historical information, educational activities, and more. Fans can also follow @macys on various social media networks and join the conversation using #MacysParade.
This Thanksgiving, Macy's safely brought millions of spectators nationwide a dazzling celebration like no other. Get ready to start the countdown in 5, 4, 3, 2, 1 … Let's Have a Parade™!
Hanes is the official mask of the Macy's Thanksgiving Day Parade.
Ram is the official truck of the Macy's Thanksgiving Day Parade.
Remo is the official drumhead provider of the Macy's Thanksgiving Day Parade.
Under Armour is the official outerwear provider of the Macy's Thanksgiving Day Parade.
It's Time to Be Merry at Macy's This Holiday Season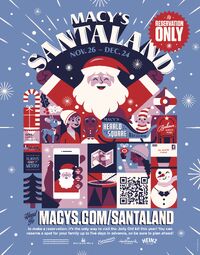 Santa Claus returns to delight children of all ages at Macy's this holiday season. Since 1861, generations of children have enjoyed the magic of a visit with the one-and-only Santa Claus at Macy's. That cherished holiday tradition will return in-person this year to
Macy's Santaland
at select stores by advance reservation. To bring the wonder of the season closer to children everywhere, Macy's Santaland at Home, a digital experience will also be available this year with an all-new virtual adventure via
macys.com/Santaland
.
"Macy's is the destination for holiday magic. For more than 160 years, Macy's has enthralled generations with celebrations welcoming the holiday season. From a visit with the one-and-only Santa Claus to Macy's Great Tree, animated windows and more, we are thrilled to bring the spirit of the season back to communities nationwide," said Will Coss, Macy's vice president of Branded Entertainment. "We are particularly overjoyed for the return of in-person visits with Santa Claus at Macy's Santaland in Chicago, New York and San Francisco. With the health and safety of our staff and guests as our top priority, a team of dedicated elves have taken several steps to produce an experience that is fun, whimsical and one that will create cherished memories long past the season."
Macy's Santaland – Chicago, New York, and San Francisco
An enchanted world showcasing Santa's Village and Worskshop, Macy's Santaland, will open for in-store visits at Macy's on State Street in Chicago on Saturday, November 6, and at Macy's Herald Square in New York and Union Square in San Francisco on Friday, November 26. To provide all guests with a safe and enjoyable environment, visits to the winter wonderland will be conducted by advance reservation only. To reserve a special visit with Santa Claus, guests should visit macys.com/Santaland. Reservations will open five days in advance of the desired visit date to allow for the most access possible to guests wishing to attend in-person. Each day reservations will open at 5:30 a.m. local time and will showcase the open reservation slots for five days later (for example, reservations for December 16 will open on December 11 at 5:30 a.m. local time).
Safeguarding the health of guests, Santa and his elves is Macy's top priority and as such visits will be contactless and be conducted from a socially distanced experience as kids share their Christmas wish lists with the jolly man in red. In addition, Macy's Santaland will follow all city and state health and safety guidelines in place at each location for indoor masking and social distancing. Macy's Santaland will close on Friday, December 24.
Virtual Cheer! Macy's Santaland at Home
An all-new immersive digital experience awaits kids everywhere when they virtually visit Santa's Workshop via Macy's Santaland at Home. Available at macys.com/Santaland, an interactive digital journey awaits as Santaland's elves lead the way through Santa's Village and Workshop, stopping to see the sights and to play interactive games. At the finale of the experience, kids will meet Santa through an interactive video where they will be able to share their holiday wish list followed by the creation of a special Santa selfie. At the conclusion of the experience, families will be able to download their commemorative photo. Free to all, Macy's Santaland at Home will be available from Friday, November 26 through Friday, December 24. To access the site, a supervising adult must create an account, provide the appropriate permissions to activate the program including approving access to the hardware for the interactive elements and selecting their preferred Santa experience.
Macy's Holiday Windows
As the first department store to feature Christmas window displays, the iconic Macy's Holiday Windows will once again enthrall and entertain. Since 1874, Macy's has created a destination in its windows, bringing the spirit of the season to life in animated fashion. This November, at select stores nationwide, Macy's will feature a journey of discovery and triumph as a very special reindeer takes to the sky to help Santa Claus bring joy to millions of children, all made possible when she finally believed.
Macy's Great Tree, Christmas Light Show and Dickens Village
The holidays would not be complete without the enchanting Macy's Great Tree. These incredible trees will delight spectators with a dazzling showcase of light and Christmas cheer. Displayed in a variety of ways the Great Trees can be enjoyed at Macy's on State Street in Chicago (inside the world-famous Walnut Room), Macy's Lenox Square in Atlanta, Macy's Downtown Boston, and Macy's Union Square in San Francisco.
At Macy's Center City in Philadelphia the iconic Dickens Village and Christmas Light Show returns. Macy's Dickens Village will take guests through select animated displays telling the story of the Charles Dickens classic A Christmas Carol. Starting Monday, November 22, guests must reserve their spots in advance by visiting macys.com/Santaland. Macy's Dickens Village will run from Friday, November 26 through Friday, December 31. Guests wishing to see the spectacular Macy's Christmas Light Show can enjoy the light filled festive journey through popular Christmas stories including The Nutcracker and Frosty the Snowman backed by the sounds of the world-famous Wanamaker Organ, beginning Wednesday, December 1 once daily in the Grand Court or enjoy it on demand online at macys.com/Santaland.
Santa's Social Calendar
Throughout the month of December, kids can engage with Santa live on social media. His online social calendar on macys.com/Santaland will detail when his "Cookies & Milk with Santa" live events will take place.
Macy's Holiday Happiness is brought to fans in part by Balsam Hill®, Entenmann's®, Hallmark Channel and Heinz. All entries to Macy's holiday experiences are free. For more information, and to make reservations, please visit macys.com/Santaland or macys.com/events (as of 11/1).
It Starts With A Spark! Macy's 4th of July Fireworks Return
America's biggest Independence Day celebration is back, live from New York City as the
45th Annual Macy's 4th of July Fireworks
ignites the night. On Sunday, July 4th at approximately 9:25 p.m. EST,
Macy's
commenced a jaw dropping pyrotechnic salute to American bravery and optimism in an incomparable barrage of color, light, shape and sound. This year's Macy's Fireworks show launched more than 65,000 shells and effects from five barges positioned on the East River centered in midtown, delighting New York City spectators and a nationwide television audience.
"As America commemorates Independence Day, we are thrilled to join the celebration with a spectacular Macy's 4th of July Fireworks display honoring the heroic spirit of our nation," said Will Coss, executive producer of Macy's 4th of July Fireworks. "Live from New York City, five barges positioned on the East River will launch an epic celebration that will inspire a renewed sense of hope and optimism among our fellow New Yorkers and viewers nationwide."
"The Summer of New York City is underway!" said New York City Mayor Bill de Blasio. "New Yorkers have worked hard to fight back COVID-19 and build a recovery for all of us. This summer, we can't wait to reconnect with the iconic events that make our city great. These fireworks make us all proud to be New Yorkers and Americans, and I'm looking forward to a joyful and safe viewing this year."
Macy's 4th of July Fireworks first burst onto the New York City sky with a special U.S. bicentennial show in 1976. Since then, Macy's Fireworks have grown in scale and artistry as they burst to life over many of New York City's waterways and neighborhoods. The 45th edition of Macy's Fireworks is conceived, designed and produced by Macy's with Pyro Spectaculars by Souza. Designed to ignite in synchronization to a patriotic musical score, the 25-minute display featured a host of shells and effects in dozens of colors and shapes including eclipsing fans, triple linking rainbows, blue jellyfish with crackling tentacles and red, white and blue waterfalls, creating dramatic effects a mile across the river and from 1,000 feet in the air to the water's edge.
A Hero's Journey, The Musical Score
The musical score is the basis for the fireworks choreography and this year it salutes the hero within – the spirit of optimism and bravery of the American people. Patriotic classics such as "The Star-Spangled Banner" and "America the Beautiful," featuring guest performances from The United States Army Field Band & Soldiers' Chorus, mix with original instrumentals and a soaring rendition of "Lift Every Voice and Sing" by Broadway Inspirational Voices; creating a moving musical showcase for the pyro in the sky.
The score for Macy's Fireworks also featured music superstar Tori Kelly singing a powerful rendition of Rodgers and Hammerstein's classic "You'll Never Walk Alone" from the musical Carousel. This tribute to everyday heroes was the heart of this year's Macy's Fireworks and served as the musical accompaniment to the signature Macy's Golden Mile moment of the spectacle, where thousands of golden-hued shells create a dramatic cascade effect 1,000-feet in the air and more than a mile wide across the East River.
The Best Views
On July 4th, Macy's Fireworks were viewed from the comforts of home and any area with an unobstructed view of the sky above the East River in Midtown. Public viewing locations were set up and managed by the NYPD. Viewing was available for verified fully vaccinated spectators on elevated portions of the FDR Drive in Manhattan with entry points at East 23rd, East 34th and East 42nd Streets. ADA/Special Needs public viewing for verified fully vaccinated spectators was accessible at the East 34th Street entry point. Public viewing for non-vaccinated spectators will be available along portions of the Queens, Brooklyn, and Manhattan waterfronts. As health and safety regulations evolve, these changes may impact the City's public viewing plan, so spectators are encouraged to check macys.com/fireworks for the most up-to-date viewing information including entry details, health and safety protocols and marine viewing.
A National Television Spectacle
Spectators from coast-to-coast also had a front row view of the pyro in the sky by tuning to NBC's national broadcast of Macy's 4th of July Fireworks Spectacular (8-10 p.m. ET/PT, 7-9 p.m. CT/MT, check local listings). The nation's No. 1 Independence Day special also featured performances from some of music's brightest stars including Black Pumas, Coldplay, OneRepublic, Reba McEntire, The Jonas Brothers, Marshmello and Blake Shelton.
Giving Back – Macy's Salutes Those Who Serve
No Independence Day celebration would be complete without a special tribute to members of the U.S. Armed Forces who work tirelessly to defend and protect our freedoms. In addition to the patriotic tributes during the Macy's Fireworks display, once again this year, Macy's and its customers nationwide came together for a charitable giving program to support active duty military, veterans and military families. During "Macy's Salutes Those Who Serve" campaign, which kicked off Thursday, July 1 and ran through Saturday, July 31, Macy's shoppers were invited to round up their in-store purchases to the nearest dollar (up to $.99) and donate the change, or donate online to support Blue Star Families and Bunker Labs. One hundred percent of these donations benefit both charities evenly. For Blue Star Families, the campaign supports programs like its Racial Equity Initiative, which deploys a community-based model to improve the service experience for military families of color through complimentary events, programs and resources. For Bunker Labs, the campaign supports its Entrepreneurship Workshop series, which helps veterans from underrepresented populations, including Black, female, Latinx & Asian American communities, launch and grow their businesses. Since 2013, Macy's has helped raised more than $13 million for America's veterans and military families.
Special Thanks
Macy's glittering spectacle is made possible in part by Cracker Barrel Old Country Store, GoBowling, Green Giant, Jennie-O, New York Life, Ram Trucks, and is presented in partnership with the City of New York. Spectators in New York City are encouraged to enjoy the full Macy's Fireworks experience by tuning in to radio station 1010 WINS (via 1010 WINS-AM, or 1010 WINS on the AUDACY mobile app) to hear the musical score to which the show is choreographed.
Macy's Flower Show Presents A Floral Celebration of Fortitude
This Spring, dazzling blooms and stunning floral landscapes take root as the
Macy's Flower Show
brings a floral celebration of fortitude to
Macy's
flagship store at Herald Square in New York. From Sun., May 2 through Sun., May 16, 2021,
Give. Love. Bloom.
enchanted floral aficionados as they explored over-the-top gardens both inside the flagship's main floor, balcony level and famed windows and this year for the first time-ever with a special presentation at Herald Square Park. With the spirit of renewal and new days of hope on the horizon, Macy's annual celebration was reimagined to safely bring the magic of spring to life for guests in and around the world-famous store.
"The 2021 Macy's Flower Show will feature magnificently landscaped gardens inspired by the feeling of hope for a brighter year ahead," said Rick Pomer, creative director, Macy's Flower Show. "Give. Love. Bloom. will awe spectators, kicking off the spring season with an immersive, floral spectacular that will delight the senses. We're looking forward to welcoming visitors and pedestrians to our magical floral oasis where the resilient spirit of the city will be in full bloom."
The iconic spring kickoff has enchanted generations of floral fans with whimsically themed gardens that showcase millions of live flowers, plants, and trees from around the globe. Native to many different landscapes, Macy's Flower Show offers visitors a unique opportunity to enjoy these florals blooming in unison, despite their distinct climatic DNA. Taking root in unexpected settings, the florals bloom on store countertops, in display windows and specially designed architecture including grand bridges, columns, and topiaries. The 2021 Macy's Flower Show was staged in distinct fashion with socially distanced displays and several dazzling hanging elements.
For the first time-ever, guests had the opportunity to explore a special extension of the show at Herald Square Park. Macy's in collaboration with the 34th Street Partnership created this special outdoor oasis helping the neighborhood celebrate the spring season. Lush arches and planters brimming with bright hues will decorate the midtown park. Simultaneously, the world-famous Broadway window displays at Macy's Herald Square blossomed with hope and love, packed with pretty petals in cool tones of purple, green and blue accentuated with a warm palate of pink, red and yellow.
Fashion Institute of Technology
As part of a special initiative designed to give up-and-coming fashion design students the opportunity to showcase their remarkable work, Macy's has partnered with one of the nation's top design schools, Fashion Institute of Technology, to feature the unique designs of select students inspired by the Flower Show's theme. The awarded student designers are Bryan Barrientos, Yawen Chen, Fatima Eroglu, Juan Kwon, Eunjung Lee, Jonona Mukhtarova and Vicky Zhang. Against a backdrop of vibrant purple and pink flora, the floral themed fashions will be displayed throughout the duration of the spectacle at Macy's Herald Square.
Designer Spotlight Series
Additionally, this year's Macy's Flower Show will feature a Designer Spotlight Series, highlighting local New York City floral designers. Every three days a creative wunderkind will showcase a show-stopping bouquet on the mezzanine of Macy's Herald Square during the two-week run of the show. Designers featured include Petals by Dani, Polycarp Flowers, Flower Bodega, Brooklyn Blooms Floral Boutique and Park Delicatessen.
Flower Show Gives Back
Giving back to the community is a core value at Macy's. Through this year's Flower Show, Macy's created a positive impact with the Mural Project – inviting local artists to participate in creating a floral inspired art piece for the show. Additionally, following the Flower Show, Macy's donated select floral materials to local New York City partners, Grand Street Settlement and Henry Street Settlement to beautify their surroundings. Both organizations provide helpful services and programs to the New York City community.
Free to the public, Macy's Flower Show was open during regular store hours. Macy's floral spectacular extends special thanks to its partners Kalahari Resorts and Conventions, Lifetime and Sinclair Oil Corporation.
For additional information about the 2021 Give. Love. Bloom. Macy's Flower Show including a virtual behind the scenes tour, bouquet designing videos and more visit www.macys.com/flowershow.
An Insider's Look
Macy's wanted to give you a peek behind the curtain and show you exactly what goes into putting on the annual Macy's Thanksgiving Day Parade. (Hint: it takes a whole year!). Learn the ins and outs of the Macy's Parade Studio located in Moonachie, New Jersey, and meet the people who bring the event to life!
The Road to 34th Street
Get an inside look from Macy's Thanksgiving Day Parade Executive Producer, Susan Tercero, who explains how the balloon concepts go from sketch to 3D models, how the floats are engineered to travel to the Parade route and so much more. Plus, there's tons of glitter! Check out Macy's video series to see what goes on behind the scenes.
Parade 101
The Macy's Parade Studio team shows how they incorporate science, technology, engineering, art & math concepts to create a magical experience for millions to enjoy!
The Balloon Team that creates the larger-than-life character balloons for the Macy's Parade shows you there is more than one way to inflate a balloon! At the amazing Macy's Parade Studio, Matt, Brian and Tina demonstrate fun inflation experiments that you can do at home.
Learn how to build fabulous floats, like the ones in the Macy's Parade, with materials you have at home! In the amazing Carpentry Area of the spectacular Macy's Parade Studio, experts Lenny and Brett show you how to get your float moving and create anything you can imagine.
Artists Joey and Lauryn have really fun jobs, they design the larger-than-life balloons in the Macy's Parade! In the remarkable Design Department at the incredible Macy's Parade Studio, they will teach you the fundamentals you need to design your own gigantic balloon.
Get a glimpse at how the movable art on the show-stopping floats in the Macy's Parade is made. In the spectacular Sculpture Area of the famous Macy's Parade Studio, experts Cameron and John show you how to create sculptures using moldable material you can make at home.
Macy's Parade Gives
Since the very first Macy's Thanksgiving Day Parade in 1924, it has always been a way for employees and Macy's to give back to the community. Over the years, Macy's has continued to create new opportunities for the Parade to give even more back.

Browse Macy's Thanksgiving Day Parade Wiki