Macy's Thanksgiving Day Parade Wiki
is an encyclopedia for information related to the
Macy's Thanksgiving Day Parade
, one of America's best Thanksgiving traditions and a hallmark of the
Macy's
department store chain. The "Longest Running Show on Broadway" is so momentous that we try to offer it full and complete coverage! We currently devote over 1000 articles to the parade's fantastic floats, giant big balloons, musical performances, other
Macy's Special Events
, and everything else this 94-year old sensational spectacle has to offer!
We currently have 1,203 articles, have uploaded 15,038 images, and have made 105,242 edits.
Macy's and the City of New York Announce Plan for Macy's Thanksgiving Day Parade
On Monday September 15th 2020, Macy's and the City of New York announced details of the reimagined plan for the safe production of Macy's Thanksgiving Day Parade celebration. For the first time in its more than 90-year history, the annual Macy's Parade will be modified to safely bring the magic to more than 50 million viewers nationwide on Thanksgiving Day, while maintaining all of the spectacle and wonder of this cherished holiday tradition. This year the celebration will shift to a television only special presentation, showcasing the Macy's Parade's signature mix of giant character helium balloons, fantastic floats, street performers, clowns and heralding the arrival of the holiday season with the one-and-only Santa Claus.
"New York City is always proud to join Macy's to ring in the holiday season with New Yorkers and viewers around the world. We've worked closely with the Macy's team on a safe and creative plan this year, and we look forward to keeping this tradition going on Thanksgiving Day," said New York City Mayor Bill de Blasio.
"Macy's believes in celebration and the joy of marking milestone moments with family and friends. The Macy's Parade is our love letter and gift to the City of New York and the nation. Under the unique challenges of these unparalleled times, we felt it was important to continue this cherished holiday tradition that has been the opening act to the holiday season for generations of families," said Susan Tercero, executive producer of Macy's Thanksgiving Day Parade. "While it will certainly look different in execution, this year's Macy's Parade celebration will once again serve its historical purpose – to bring joy into the hearts of millions across the nation."
For nearly 100 years, Macy's Thanksgiving Day Parade has been synonymous with the official start of the holiday season in the United States. Growing from a two block-long collection of Macy's colleagues dressed in whimsical clown outfits, playing instruments and adorning floats in 1924, to the world-famous spectacle we know today, at the core of the Macy's Parade has been the warm memories that fill the hearts and minds of generations of American families.
To safely produce this icon of American culture during this unprecedented time, Macy's partnered with the City of New York to create a safe plan that would keep the tradition alive. Following the success of this summer's reimagined Macy's 4th of July Fireworks show, the Macy's team meticulously reviewed every area of the Thanksgiving Day playbook to put in place enhanced health and safety practices that align with CDC guidelines, as well as local and state government protocols.
The safety of participants and spectators is Macy's number one priority and this year's 94th Annual Macy's Thanksgiving Day Parade celebration will be produced solely as a television event allowing millions of New Yorkers and the nation to safely experience it from the comforts of home.
As part of Macy's comprehensive health and wellness plan a number of changes will be implemented in order to execute this event safely. These changes include, but are not limited to the following:
Reducing the overall number of participants by approximately 75%, and splitting the remaining participants over two days
All participants will be appropriately socially distanced during performances and be required to wear face coverings and additional personal protective equipment depending on their role
Shifting to a television-broadcast-only production with staging for Parade elements focused solely in/ around the Herald Square area of Midtown Manhattan
The traditional 2.5-mile Parade route will not be utilized this year
No participant in the Parade will be under 18 years of age
Previously selected regional High School and College Marching Bands performances will be deferred to the 2021 Macy's Parade, with locally based professional marching and musical ensembles taking musical duties in the lineup
Macy's traditional Giant Balloon Inflation public event on Wednesday will not take place
Macy's signature giant character balloons will be flown without the traditional 80-100 handlers and instead employ an innovative, specially rigged anchor vehicle framework of five specialty vehicles tested and approved by the NYCDOT and NYPD
The 94th Annual Macy's Thanksgiving Day Parade will air nationwide on NBC-TV, Thursday, November 26, 2020 from 9:00 a.m. to Noon, in all time zones. For more information visit macys.com/parade. To follow and participate in the excitement, check out @macys on various social platforms and follow #MacysParade.
Source: Macy's
The Boss Baby Takes Flight!
The world's most famous mini-mogul takes flight this November as The Boss Baby, the title character from the upcoming DreamWorks Animation movie The Boss Baby: Family Business, debuts in the 94th Annual Macy's Thanksgiving Day Parade. The holidays officially begin on Thursday, November 26, 2020, live from 34th Street, as the annual holiday spectacle rings in the season of joy. While more than 50 million viewers gather at home to watch the celebration unfold on NBC, it will be all business for The Boss Baby, as he transforms into a giant character balloon for his first flight in front of Macy's famed flagship store at Herald Square in New York City.
"We can't wait to see The Boss Baby take flight for his first Thanksgiving Day mission bringing smiles to the faces of millions of viewers nationwide," said Jordan Dabby, producer of Macy's Thanksgiving Day Parade. "Although it's a holiday, The Boss Baby will be all business, sporting his signature black suit and carrying a briefcase, letting everyone know who's in charge."
The Boss Baby is the fifth DreamWorks Animation character balloon to appear in the Parade. Over the years, the Parade has featured balloons from the studio's Shrek, Kung Fu Panda, How to Train Your Dragon and Trolls franchises. "The annual Macy's Thanksgiving Day Parade is a beloved American tradition and an indelible American treasure, and we are delighted to celebrate it with families across the country again this year," said David O'Connor, Executive Vice President, Head of Global Franchise Management, Brand Marketing and Partnerships, Universal Pictures. "The Boss Baby knows how to take charge better than anyone, and we can't wait for families across America and the world to see him rule the New York City skyline on Thanksgiving Day."
Designed by the artists of Macy's Parade Studio, the adorable suit-wearing, briefcase-carrying Boss Baby will debut in the Thanksgiving Day celebration transformed into a 32-feet long, 28-feet wide, 48-feet tall giant balloon. With his trademark grin and in-charge attitude, the pint-sized mogul will make a big impression on spectators from coast-to-coast.
The Boss Baby: Family Business, in theaters March 26, 2021, is the sequel to the Oscar-nominated blockbuster comedy that earned more than $500 million worldwide. In this new film, the Templeton brothers —Tim (James Marsden) and Boss Baby Ted (Alec Baldwin)—have become adults and have drifted away from each other. But a new boss baby with a cutting-edge approach and a can-do attitude is about to bring them together again … and inspire a new family business. The film also stars Jeff Goldblum, Eva Longoria, Ariana Greenblatt, Amy Sedaris, Jimmy Kimmel and Lisa Kudrow.
Olay To Debut STEM-Sational New Float!
After announcing a 10-year commitment to double the number of women and triple the number of multicultural women in STEM (science, technology, engineering and math) professions through the Face the STEM Gap earlier this year, Olay will further champion the cause this Thanksgiving with an empowering Macy's Thanksgiving Day Parade float.
The design, created in partnership with Macy's, features a woman wearing traditional cornrow braids and a space-themed bomber jacket with a patch on the arm, which serves "as a reminder of Olay's continued commitment to get more women into STEM roles," Olay Brand Director Janelle Wichmann tells PEOPLE exclusively.
"We recognize that women only make up 24 percent of the jobs in STEM. Science is so inherent to Olay's DNA, so we really want to help change what the face of STEM looks like. It's part of our 10-year brand mission to solve that STEM gap."
Other elements on the float meant to represent STEM include a double helix, a robotic arm, mathematical symbols and computer coding. The beauty brand's iconic red jar — also a symbol of the research the brand is committed to — also adorns the side of the float.
When the design parades through New York City on Thanksgiving Day, Wichmann says Olay (the first-ever skincare brand to participate in the annual event) hopes girls and young women across America who want to work in STEM will feel "really excited and inspired" to enter male-dominated fields.
The design also showcases Olay's continued push to replace models with role models, much like the woman portrayed in the float: "Olay partners with a lot of really great and fantastic women, and we have through the years," Wichmann explains. "You're seeing more real female scientists and real female engineers from us. We're excited once again to bring this kind of STEM message and ambition to the masses."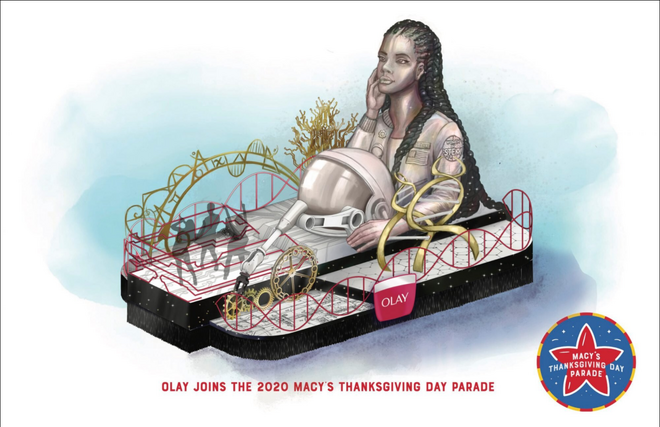 Jennie-O Cooks Up A Stunning Turkey Spectacular!
Jennie-O Turkey Store, a wholly owned subsidiary of Hormel Foods (NYSE: HRL), a global branded food company, will debut a delectable float in the 94th annual Macy's Thanksgiving Day Parade. During the annual spectacle, the inaugural Jennie-O float will be unveiled to more than 50 million viewers nationwide on Thursday, November 26, live from 34th Street. The addition of the Jennie-O float marks the first time the event and holiday synonymous with turkey will feature a turkey brand.
Since 1940, Jennie-O Turkey Store has helped families across America and in more than 40 countries serve traditional and innovative Thanksgiving meals while creating lasting memories. Now, to mark its 80th anniversary, the brand is celebrating by joining the iconic Parade line-up to make even more memories and entertainment for all.
Jennie-O will also use the new platform to showcase simple and delicious ideas to make turkey an everyday protein choice. This will include highlighting Jennie-O's high-quality products, cooking solutions, recipes and resources for consumers everywhere to make any meal fun, flavorful and easy.
"The Macy's Thanksgiving Day Parade is one of the most iconic and cherished events of the year that coincides with a very important time for our brand," said Nicole Behne, Vice President Marketing, Jennie-O Turkey Store, Inc. "In a year when family bonds and giving thanks are more important than ever, no matter where you are, we are thrilled to join the Parade to help create new memories, traditions and entertainment for viewers everywhere."
"Each year, the Parade team creates new imaginative stages, captivating millions all over the country on Thanksgiving morning," said Jordan Dabby, producer of Macy's Thanksgiving Day Parade. "Jennie-O, will be the first turkey brand to introduce a float in the Macy's Parade with the debut of the Big Turkey Spectacular, set to entertain and delight families nationwide as they gather to celebrate the start of the holiday season."
Additionally, to celebrate and commemorate the occasion, Jennie-O is announcing the launch of a brand-new social media campaign called the "Turkey Day Spectacular Sweepstakes" that will encourage fans to join the fun by creating and sharing their own homemade Parade floats. All designs submitted to the company's website or Facebook, Instagram or Twitter social channels with the hashtags #MacysParade and #TurkeyDaySpectacular will be entered for a chance to win a trip to experience the Parade in person in 2021. For more details, visit www.jennieo.com.
During the holiday season, Jennie-O will continue offering the 1-800-TURKEYS hotline beginning November 2, 2020, to consumers everywhere for advice on a variety of topics like techniques for cooking a turkey, wine and drink pairings, leftover recipe inspiration, and – most importantly – what it takes to avoid the most common kitchen disasters that can wreak havoc on Thanksgiving Day. Consumers also have the ability to ask their turkey prep questions via live chat at the JENNIE-O® brand website and via mobile device by texting the word "Turkey" to 73876. Additionally, consumers can track their fresh or frozen JENNIE-O® whole turkey back to its originating farm through the JENNIE-O® Turkey Tracker. From calculators that tell the host how much turkey to buy, to full menus for Thanksgiving dinner and inspiring suggestions for preparing tasty leftovers, Jennie-O offers easy solutions for any holiday meal.
Lifetime Spreads Holiday Cheer At The 2020 Macy's Parade!
The nation's leading holiday movie destination with something for everyone, Lifetime continues to make spirits bright with the debut of its first float in the 94th Annual Macy's Thanksgiving Day Parade(R). As its new Christmas in Town Square float makes it way live down 34th Street in New York City, millions of Parade viewers from around the country will get their first look at the festive float inspired by the network's popular It's a Wonderful Lifetime holiday movie event, featuring 30 new movies premiering through Christmas.
"We are thrilled to welcome Lifetime to our 94th Parade spectacle," said Jordan Dabby, producer of Macy's Thanksgiving Day Parade. "Our talented and creative Parade Studio team worked hand-in-hand with Lifetime to bring to life this festive new holiday float that will delight millions on Parade morning."
Lifetime's Christmas in Town Square float features a quaint cobblestone main street, charming store fronts, lighted lanterns, twinkling icicle lights, Christmas trees, and lots and lots of snow. Reminiscent of a scene from a holiday movie, the display will transport parade viewers to the romantic setting of so many of their favorite holiday stories. Capping the float is gigantic Christmas ornament which will contain a stage featuring a special performance.
"Lifetime is known for its huge annual celebration of the holidays, our It's a Wonderful Lifetime holiday programming event," said Amy Winter, EVP and Head of Programming, Lifetime and LMN. "Joining the Macy's Thanksgiving Day Parade, an American tradition in its own right, is the perfect way to continue our efforts to spread the joy and happiness of the season."
Beginning October 23, Lifetime's It's a Wonderful Lifetime programming event features 24/7 holiday movies all season long through Christmas. For more information, please visit MyLifetime.com.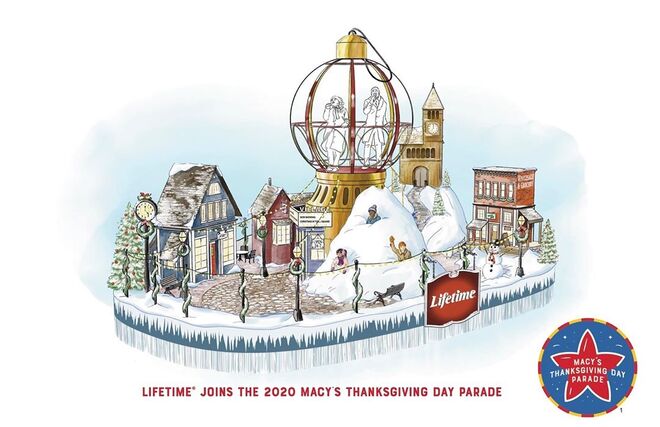 Red Titan Flies Into The Macy's Parade!
Pocket.watch, the studio behind global franchises from the YouTube stars and characters loved by Generation Alpha, today announced that one of the newest giant character balloons in this year's Macy's Thanksgiving Day Parade will be inspired by top YouTube star Ryan of Ryan's World (40.2 million subscribers). Based on his popular alter ego, "Red Titan", Ryan will be the first YouTube creator to be featured in the storied celebration's 94-year history. Red Titan will take flight live from 34th Street, on Thursday Nov. 26, in New York City and will be broadcast on NBC.
"We're thrilled to make history with the Macy's Thanksgiving Day Parade, bringing the most popular kid in the world together with one of the most anticipated holiday events of the year," said Kerry Tucker, CMO of pocket.watch. "Our goal is to bring kids more of what they love, especially during these challenging times. Kids adore Red Titan so we are proud that he will take his rightful place in the sky in this iconic Parade. Pocket.watch has created a lot of "firsts" for YouTube creators, but this one feels larger than life."
Red Titan, along with all the characters of Ryan's World was created by Ryan's father, Shion and his production company, Sunlight Entertainment.
"We are thrilled to welcome Red Titan to the Macy's Parade balloon lineup this year," said Jordan Dabby, producer of Macy's Thanksgiving Day Parade. "The giant balloons in the Macy's Parade have always featured the most recognized characters in the world, and with the reach of Ryan's World on YouTube, we are sure that millions of viewers will be delighted to see Red Titan fly this Thanksgiving."
Designed by the artists of Macy's Parade Studio, the masked Red Titan balloon will debut in the Thanksgiving Day celebration transformed into a 51-feet long, 28-feet wide, 42-feet tall giant balloon. The news was unveiled on the Ryan's World YouTube channel to over 40 million subscribers and includes behind-the-scenes videos of the making of the Red Titan balloon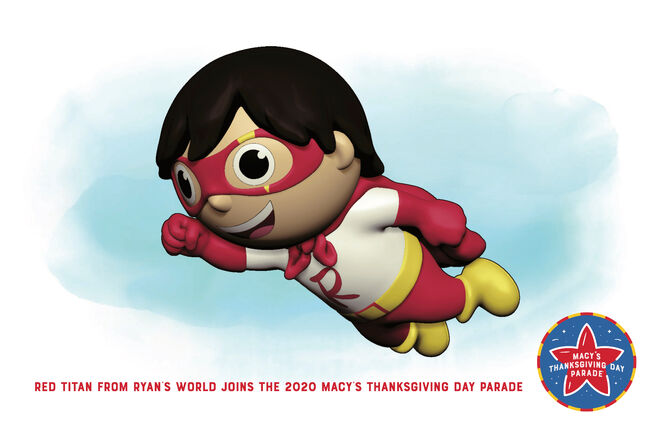 An Insider's Look
Macy's wanted to give you a peek behind the curtain and show you exactly what goes into putting on the annual Macy's Thanksgiving Day Parade. (Hint: it takes a whole year!). Learn the ins and outs of the
Macy's Parade Studio
located in Moonachie, New Jersey, and meet the people who bring the event to life!
The Road to 34th Street
Get an inside look from Macy's Thanksgiving Day Parade Executive Producer, Susan Tercero, who explains how the balloon concepts go from sketch to 3D models, how the floats are engineered to travel to the Parade route and so much more. Plus, there's tons of glitter! Check out Macy's video series to see what goes on behind the scenes.
A Yayoi Kusama Creation - Love Is The Message
After not being able to debut in the
2019 Parade
, one of the world's most renowned female contemporary artists will take her iconic art to new heights as "Love Flies Up to the Sky" by
Yayoi Kusama
joins the Parade this year. Under Kusama's exacting guidance, the piece was transformed into high-flying balloon art by Macy's Parade Studio pros.
Parade 101
The Macy's Parade Studio team shows how they incorporate science, technology, engineering, art & math concepts to create a magical experience for millions to enjoy!
The Balloon Team that creates the larger-than-life character balloons for the Macy's Parade shows you there is more than one way to inflate a balloon! At the amazing Macy's Parade Studio, Matt, Brian and Tina demonstrate fun inflation experiments that you can do at home.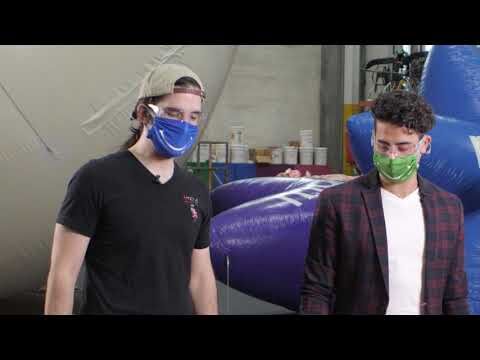 Learn how to build fabulous floats, like the ones in the Macy's Parade, with materials you have at home! In the amazing Carpentry Area of the spectacular Macy's Parade Studio, experts Lenny and Brett show you how to get your float moving and create anything you can imagine.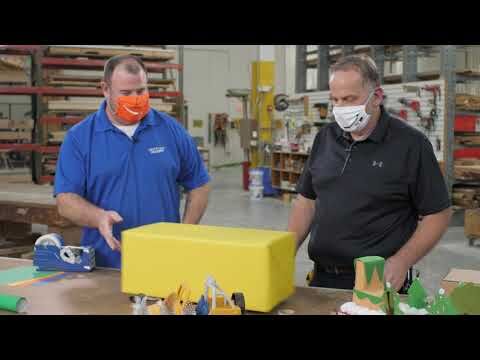 Artists Joey and Lauryn have really fun jobs, they design the larger-than-life balloons in the Macy's Parade! In the remarkable Design Department at the incredible Macy's Parade Studio, they will teach you the fundamentals you need to design your own gigantic balloon.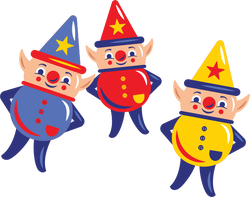 Browse Macy's Thanksgiving Day Parade Wiki
Community content is available under
CC-BY-SA
unless otherwise noted.