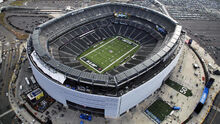 MetLife Stadium
 is a multi-purpose stadium located in East Rutherford, New Jersey, 8 miles (13 km) outside of New York City. It is part of the Meadowlands Sports Complex and serves as the home stadium for two National Football League (NFL) franchises: the New York Giants and the New York Jets. The stadium is owned by the MetLife Stadium Company, a joint venture of the Giants and Jets, who jointly built the stadium using private funds on land owned by the New Jersey Sports and Exposition Authority. The stadium opened as 
New Meadowlands Stadium
 in 2010. In 2011, MetLife, an insurance company based in New York City, acquired the naming rights to the stadium. At a construction cost of approximately $1.6 billion, it was the most expensive stadium ever built, at the time it opened.
History with the Macy's Parade
Since 2009, the MetLife Stadium has hosted Balloonfest, which is the official final test flight for the new balloons before they make their debut at the parade. They have hosted every Balloonfest until 2013. After that, Balloonfest began taking place at Citi Field in Flushing, New York from 2014 to 2016. Starting in 2017, MetLife Stadium once again hosted Balloonfest and has took place there ever since. They've also hosted Balloon Handler's Training sessions every year, usually in September or October.
In addition to hosting test flights, NFL Legends Hines Ward, Bart Oates and Joe Namath appeared on the New York Daily News Big Apple float in the 2013 parade to promote Super Bowl XLVIII, which took place at MetLife Stadium.
Balloons used at MetLife Stadium
Below, you will find all of the balloons test flighted at MetLife Stadium throughout the years.
Balloonfest 2009: Spider-Man (2nd Version), Ice Skating Ronald McDonald (3rd Version), Sailor Mickey Mouse (4th Version), and Pillsbury Doughboy.
Balloonfest 2010: Greg Heffley, Po from Kung Fu Panda, and the Kool-Aid Man
Balloonfest 2011: Sonic the Hedgehog (2nd Version), Julius the Sock Monkey, and Aflac Duck.
Balloonfest 2012: Hello Kitty (2nd Version), Papa Smurf, and The Elf on the Shelf.
Balloonfest 2013: Snoopy and Woodstock (7th Version), SpongeBob SquarePants (2nd Version), Toothless the Dragon, and Adventure Time with Finn and Jake.
Balloonfest 2017: Olaf, Jett from Super Wings, Paw Patrol's Chase, The Grinch (2nd Version as a balloon), Aflac Duck (3rd Version), and Harold the Baseball Player (2nd Version)
Balloonfest 2018: Little Cloud, Go Bowling, Goku from Dragon Ball, Sinclair Oil Dino Babies, The Christmas Chronicles, and Sunny the Snow Pal.
Balloonfest 2019: Astronaut Snoopy (8th Version), Green Eggs and Ham, Love Flies up to the Sky, SpongeBob and Gary (3rd Version), Smokey Bear (2nd Version)
Balloonfest 2020: TBA!
Community content is available under
CC-BY-SA
unless otherwise noted.