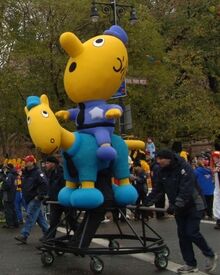 Tom Otterness (born 1952) is an American sculptor best known as one of America's most prolific public artists. Otterness's works adorn parks, plazas, subway stations, libraries, courthouses, and museums in New York City—most notably in Rockefeller Park in Battery Park City and Life Underground in the 14th Street – Eighth Avenue New York City Subway station—and other cities around the world. He contributed a balloon (a giant upside-down Humpty Dumpty) to the Macy's Thanksgiving Day Parade. In 1994, he was elected as a member of the National Academy Museum.
His style is often described as cartoonish and cheerful, but also political. His sculptures allude to sex, class, money, and race. These sculptures depict, among other things, huge pennies, pudgy characters in business suits with moneybag heads, helmeted workers holding giant tools, and an alligator crawling out from under a sewer cover. His aesthetic can be seen as a riff on capitalist realism.
History with the Macy's Parade
After viewing some of Otterness' work throughout New York City, the Macy's Parade Studio Team approached him and asked if he would like to have his very own balloon in the 2005 Macy's Parade. Tom immediately jumped at the idea, later stating "I grew up in Kansas, where the Macy's Day Parade was the biggest thing there was," he said. "I like the idea that this is in people's living rooms around the country." After searching for a concept that would be fitting for a balloon, he found a sketch of Humpty Dumpty, which would later become the concept for the balloon.
His Humpty Dumpty, dressed in business attire, stands at 33 feet tall, 27 feet wide and 20 feet long. Accompanying Humpty in route, there was also a policeman (One of the king's men) on a horse, which also looked like a balloon, but was actually a life-sized puppet with an actor inside it whose hat popped off. The balloon would later appear in the 2006 Parade, and it was retired the same year. It is unlikely to return due to the short tenure of most Blue Sky Gallery entries and controversies with the balloon's creator, Tom Otterness.
As of 2019, both Humpty and the policeman with his horse still exist and are both stored at the float warehouse.
Trivia
Humpty Dumpty, along with Love Flies Up to the Sky, are the only Blue Sky Gallery balloons to make more than one appearance in the parade's history.
Community content is available under
CC-BY-SA
unless otherwise noted.