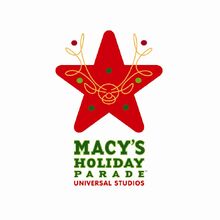 Universal's Holiday Parade Featuring Macy's (Formally known as Macy's Holiday Parade) was first held in 2001. It brings the magic of the Macy's Thanksgiving Day Parade to Orlando, Florida at Universal Studios Florida in the Universal Orlando Resort.
Original Format
From the parade's debut in 2001 until 2016, the parade featured novelty balloons that appeared in the Macy's Parade in New York (Character balloons couldn't be allowed due to licensing for some of them, as well as the fact they are too large for the park) as well as some balloonicles, falloons and floats. Many of the former units in the real Macy's Parade have actually stayed permanently at Universal. A few floats however, are especially made for the parade.
New Format
In April 2017, Universal announced that the parade would receive its biggest change yet, as well as having a name name to Universal's Holiday Parade Featuring Macy's. New especially made floats based on characters like the Minions, Madagascar and Shrek will debut, and for the first time in the parade's history licensed character balloons would appear, but limited to Universal and DreamWorks properties. The parade debuted 5 days before thanksgiving, on November 18th, 2017, instead of December, where it would normally debut each year.
The Parade returned on November 17th, 2018, pretty much looking the same as the previous year with no changes.
Current Balloons
Former Balloons