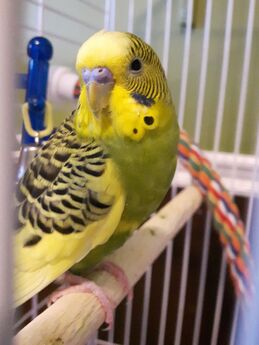 Hello, there!
My name is JamarcusMudkip, but you can refer to me as Jay. I am one of two current owners of the wiki, alongside my good friend Inflatable&SportsGuy1986. My job here is to ensure that everyone has a safe and fair experience editing the wiki. It is also my duty to make sure everyone has their voices and ideas heard.
About Me
Now, you may be wondering, what can I learn about this dashing young man? Well, I'm considered a talented artist by many (though I beg to differ). My favorite balloons include the third Pikachu, Rugrats, Astronaut Snoopy, Goku and many others. My favorite float is Parade Day Mischief, which is sponsored by Sour Patch Kids (which also happens to be my all-time favorite candy. My favorite Macy's Parade was the 93rd Annual Macy's Thanksgiving Day Parade and my favorite food is pizza.
I am also somewhat known for my copious amounts of pets. I have three budgies named Ronnie, Larry and Kiwi, and two cats named Layla and Kerry. I am also expecting to get a dog in the near future. My house is basically a zoo.
In addition to being a frequent wiki contributor, I am an avid fan of Broadway musicals, with some of my favorites being SpongeBob SquarePants, Beetlejuice, Be More Chill, Hadestown, School of Rock and many more.
With all that out of the way about me, feel free to message me on my message wall, and perhaps you could tell me a bit about yourself! Thank you for reading this, and happy editing!
Community content is available under
CC-BY-SA
unless otherwise noted.