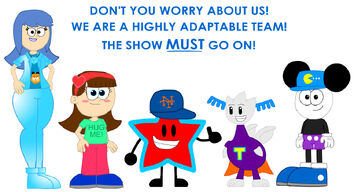 My laptop was going nuts today, and we tried everything we could to get it working again, but nothing is working right now. We're having high hopes that it will all be alright tomorrow, but if not, then this could mark the end for my old laptop's life, as well as my recent Adobe Animate assets from April 27th onwards.
I'll be getting a new laptop this Friday, but in the meantime, I'm currently using my father's laptop for STAS content.
But...do NOT fear! Every so often, I back up my files, most recently on April 26th. So, this means Shea the Superstar, Polar the Robloxian, Diana Dimenette, Hugging Harriet, TNT, TogeBoomer, Pop Fizz, and (most of) the rest of the STAS gang's assets have been saved, and I'll still be able to use them on another device without having to re-draw them!
Unfortunately, I didn't get a chance to back up any documents created and modified after the 26th, so therefore Nature Novelli, Rhonda Tracee, the most recent Impostor Balloonatics made, Looney Chris, etc. may have to be re-done (don't worry, though. I am commited to doing that task when I can, and I can always just trace them from the MPM infobox photos (which are safe because they're uploaded to the MPM Wiki) and as for Jamal the Hedgehog, I can just once again re-skin my Sonic the Hedgehog asset (which I still have).
Just so you know, I am fully commited to being able to continue production on MPM, TGG, the 1986 Celebration Parade and other STAS related entertainment when I can!
Oh, and I do apologize for using the disclaimer "this Balloon of the Day does NOT mean I endorse Bill Cosby" early even though Freida the Dachshund was today's Balloon of the Day and not Little Bill. Sometimes, I honestly like to do test types for future Balloon of the Day scripts, and I forgot to backspace that disclaimer before posting today's Balloon of the Day. But hey, at least now you'll know what to keep in mind for when Little Bill DOES become Balloon of the Day in the future!
I hope you understand all of this, and see you soon!
Community content is available under
CC-BY-SA
unless otherwise noted.